Helmet Coffee 100% Italy
The tradition of coffee and the passion for sport joined the design to create a product that combines the passion of Emilia Romagna Food Valley and the energy of the speed of motors.
Helmet Coffee contains three Italian passions: design, speed and coffee, synthesized into a single object.
Helmet Coffee is the brainchild of Andrea Poltrini, innovative designer with experience in the automotive industry and the beverage industry. Helmet Coffee is a patent pending product.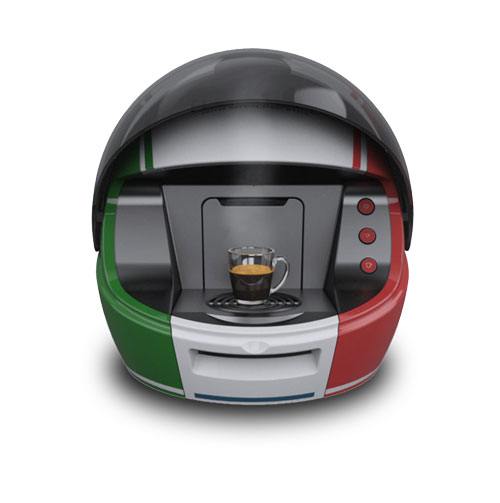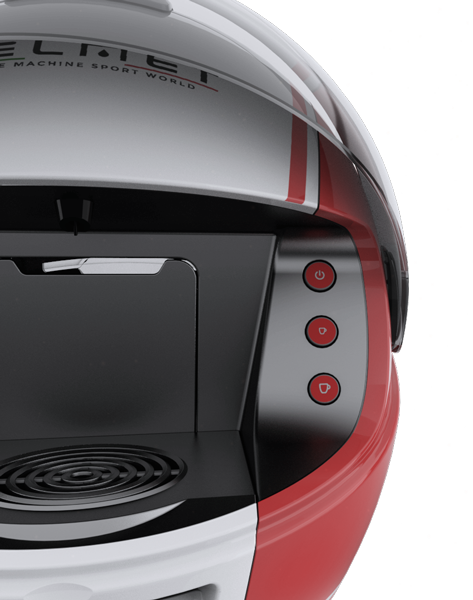 Design and Bologna
Bologna is a city situated in the very heart of Italy. Bologna is one of the most symbolic cities for enogastronomy and it is an industrial excellence.
Helmet Coffee is the natural consequence of these two traditions, combining coffee, one of the symbols of Italian taste, and the famous design of Emilian automotive industry.
Emilia Romagna is the home of some of the world design excellence as Ducati, Ferrari, Maserati, Lamborghini, Pagani and Dallara. Examples of elegance and speed, and of great importance in the Italian and international industrial world that have been taken as a guide lines and inspirations for creating Helmet Coffee.
CUSTOMIZE YOUR HELMET COFFEE
Thanks to different techniques, each product can be completely customized. One can choose embodiments of drawings of each type thanks to the versatility of the colors and lines. This feature facilitates the various requests from companies, who can get a quality product specifically designed for every occasion.
Helmet Coffee wants to answer to all the needs of its customers. Customization is one of the strong points of the product and can be declined according to every need.
When ordering, you can choose which types of pod to make the machine compatible with, so that every customer will not give up the taste of his favorite coffee.


Helmet Coffee combines the design of the beverage industry's with a cutting-edge technology. The machine is in fact compatible with 5 different types of pods, allowing the customer to choose the mix of favorite brand to use every day for a shot of energy in the morning or for a tasty break.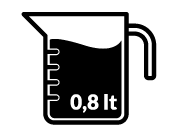 Helmet Coffee removable tank holds up to 0.8 liters of water, in this way does not weigh too much the machine and, at the same time, does not force the user to constantly recharge.


You like espresso coffee but sometimes you cannot resist to the call of a 'Americano'? No problem. The drip of Helmet Coffee has been designed to allow the use of large and small cups. Coffee will be made with a 19 bar pump for a constant pressure and a unique flavor.


There are many elements that one should take care of to make a good cup of coffee. One of these is the temperature. With Helmet Coffee you can record the ideal temperature for each type of mixture and customise it according to your tastes, getting the best taste and the highest quality of each individual coffee pod.